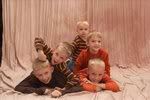 Thanks, Diana, for scouting this out. What a great idea. This could only come from a friend who has more boys than I do!!! Click on her boys' pic above to see her blog.
Homemade Laundry Soap
– 1 bar of soap (I bought Ivory but most recipes call for a soap called Zote, I haven't seen it but they say it is at wal-mart and in all fairness I didn't look)
– 20 mule Borax
– Arm and Hammer WASHING soda
1. Shave the soap and add to 6 cups of slow boiling water and stir until dissolved.
2. Add to the water 1 cup of Borax and 1 cup of Washing soda. Now different recipes say different things some do 1/2 cup and others do 1 1/2 cup so I just did 1 you can play around with it.
3. After it all dissolves add 4 cups of HOT water to the bucket that you will be holding the soap in. I bought a plastic container that will hold 32 cups of water cause that is how much you will have when its all done. And it came with a hinged lid on it.
4. Pour the soap mixture to the hot water and stir
5. Now finish by adding 22 cups of water to the mixture.
6. Stir and let sit for about 24 hours
It will be a gel mixture but everyone says that the mixture will separate so you just have to stir it before you scoop it.
Scoop 1/2 cup to your laundry!