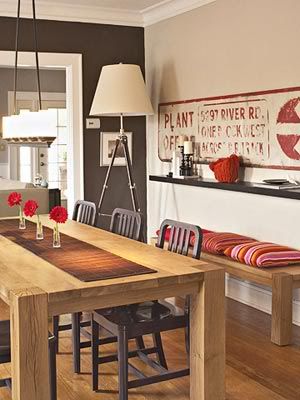 Images from Better Homes & Gardens.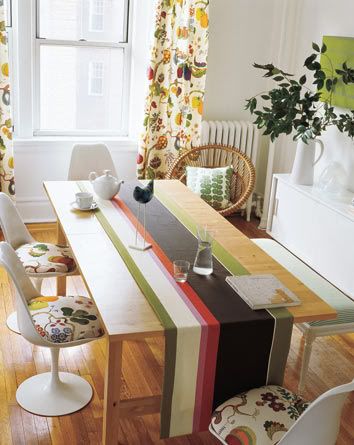 Image from Domino Magazine.
We often have people over for dinner and we either eat in shifts at the table, people take their plate to the family room or we set up the plastic Sam's Club banquet and/or card table. Summer is nice because then I can set up a kids' table on the deck. It would be nice to have a huge table to seat family and guests comfortably but that would take an enormous dining "wing" (we can get 20+ people over at once at times). We once had an outdoor 4th of July party with just under 100 people and our home was only 900 square feet at the time but we lived on nearly a half an acre so we put up doors on sawhorses and covered them with tablecloths, borrowed chairs galore, and voila we had seating for nearly 100 people! It was one of the most fun times ever. We served drinks in the kiddie pool full of ice. There were water fights and people brought their own grills and we potlucked like crazy. Sigh.
Dining guests aside, our kitchen table is getting too small for our family on a daily basis. It can seat six people but really fits 4 most comfortably. It's been fine while the baby is in a high chair but I think we're outgrowing it. The chairs are old and two have broken so now the last person to the table gets an uncomfortable and ill-fitting stool to sit on. This is going to sound crazy (unlike every other thing that comes out of my mouth, right?) but I am hesitant to even look at new tables because a) I love my table – it has a metal top that is so easy to clean, and b) it's been our table for so long it has sentimental value, and c) the kids are just going to grow up anyway and leave so why do we need a big table?? There's the crazy part. That should be 18 years into the future but I'm thinking about it now. Ding! Ding! Ding! Crazy! I think I need something to tide me over until Ben's out of his high chair and I break down and get a bigger table: a bench. I love the kitchen table and bench idea because I figure kids can squish on a bench, right?
By the way, I saw a new zinc topped dining table recently – was it Pottery Barn? – and it has so got me thinking maybe a new table is the way to go. Eventually. I just have to let go of the one I love first.