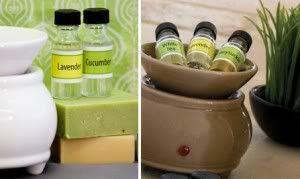 There's a couple of giveaway links to share this morning (besides my own giveaway listed below, of course):
1. www.makemorescents.com – gives away a large scented candle every Monday (you have to click on the free drawing icon in the upper RH corner of the website). Watch this one – you will receive ads from their site to whatever email you put in (be careful if you don't like to use your delete key!), and
2. The Inspired Room, which, I've posted about before — lovely site — is giving away an Urban Botanic fragrance thingy that is sure to make your home smell lovely for the holidays. Click here to enter that contest. Pic above is from The Inspired Room.
All rules and regulations per the hosting site. I just wanted to share the love links.